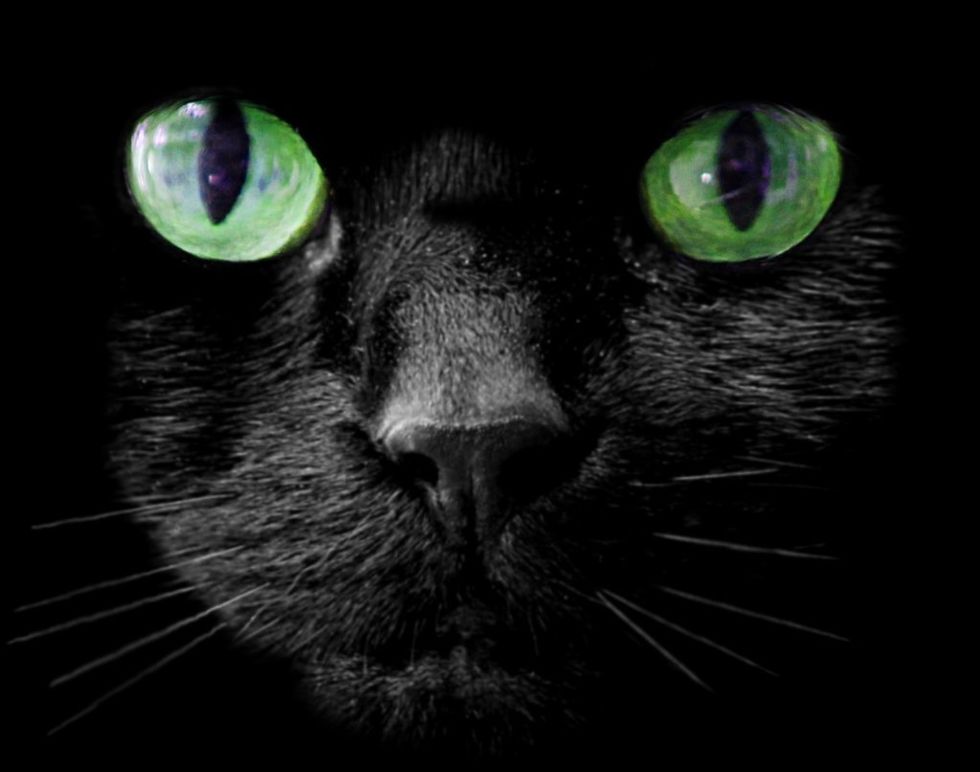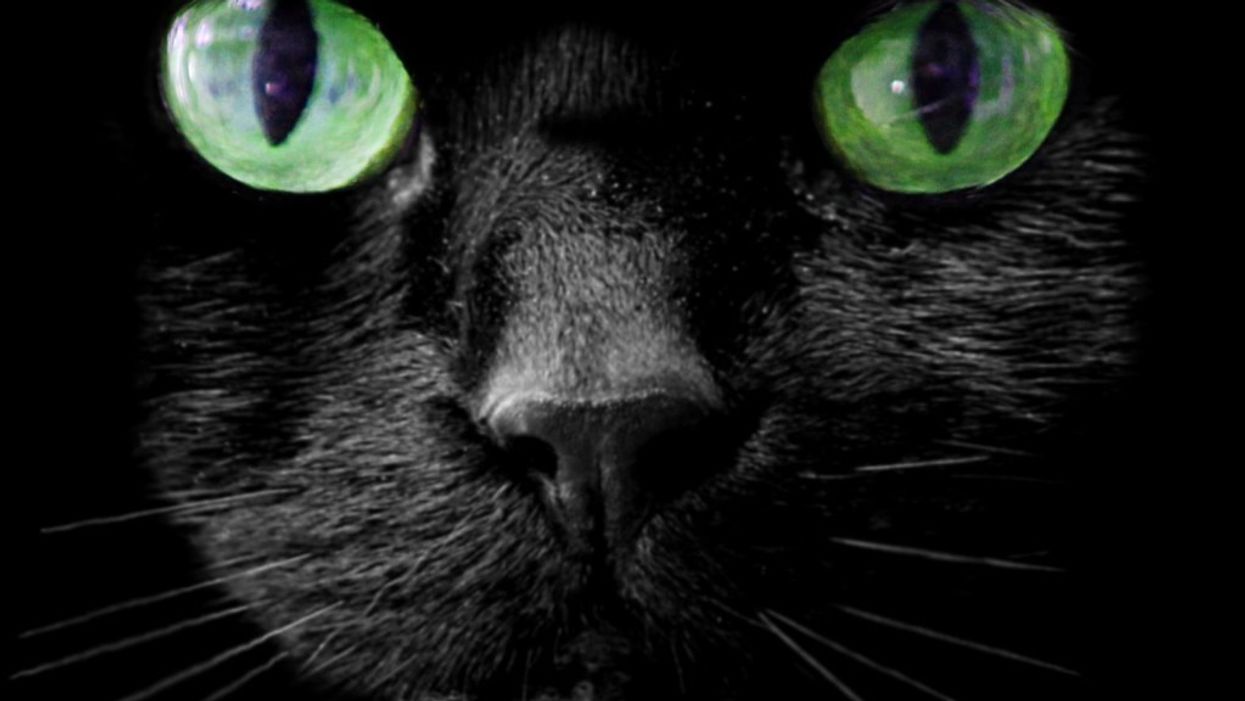 Black cats. For centuries, they've been the target of conflicting reputations. Some say they're bad luck. Others—sailors and actors, most notably—wouldn't dream of launching a ship or a theater production without at least one dark-furred kitty along for the ride.
Superstition aside, Leah Lyman–owner of Jagger's Journey Cat Rescue in Oregon—simply finds them beautiful. She devotes her life to fostering and finding permanent homes for abandoned black cats and kittens. "I rescue them all, but black cats are my top priority," she says. "Some people are still ignorant about them. The phobia's out there."
In early October, I didn't need another cat. I had two indoor kitties, plus a barn cat outdoors. But I walked into Petsmart in Springfield, Oregon with my 13-year-old daughter and stopped in front of three cages of black kittens and cats on a table. Lyman stood beside them wearing a tee that read "Rich people have brand logos on their shirts. Happy people have cat hair on their shirts." I introduced myself, trying not to look at the silky four-month old kitten next to me—a carbon copy of my late lamented Alger Hiss.
Over 17 years, first as a volunteer with other rescue organizations and then as founder of her own non-profit, Lyman has pulled wet filthy kittens from canals, rescued flea-infested dehydrated felines, and set her alarm to bottle-feed orphans every four hours around the clock. Last year, she found a cat suffering from a broken jaw, with glue smeared in its eyes and nostrils. "He was nearly dead, but I rushed him to the vet who repaired his jaw and used mineral oil to remove the glue," Lyman recalls. She syringe-fed the cat, whom she named Damien, and found him a loving permanent home with an elderly woman and her grandson.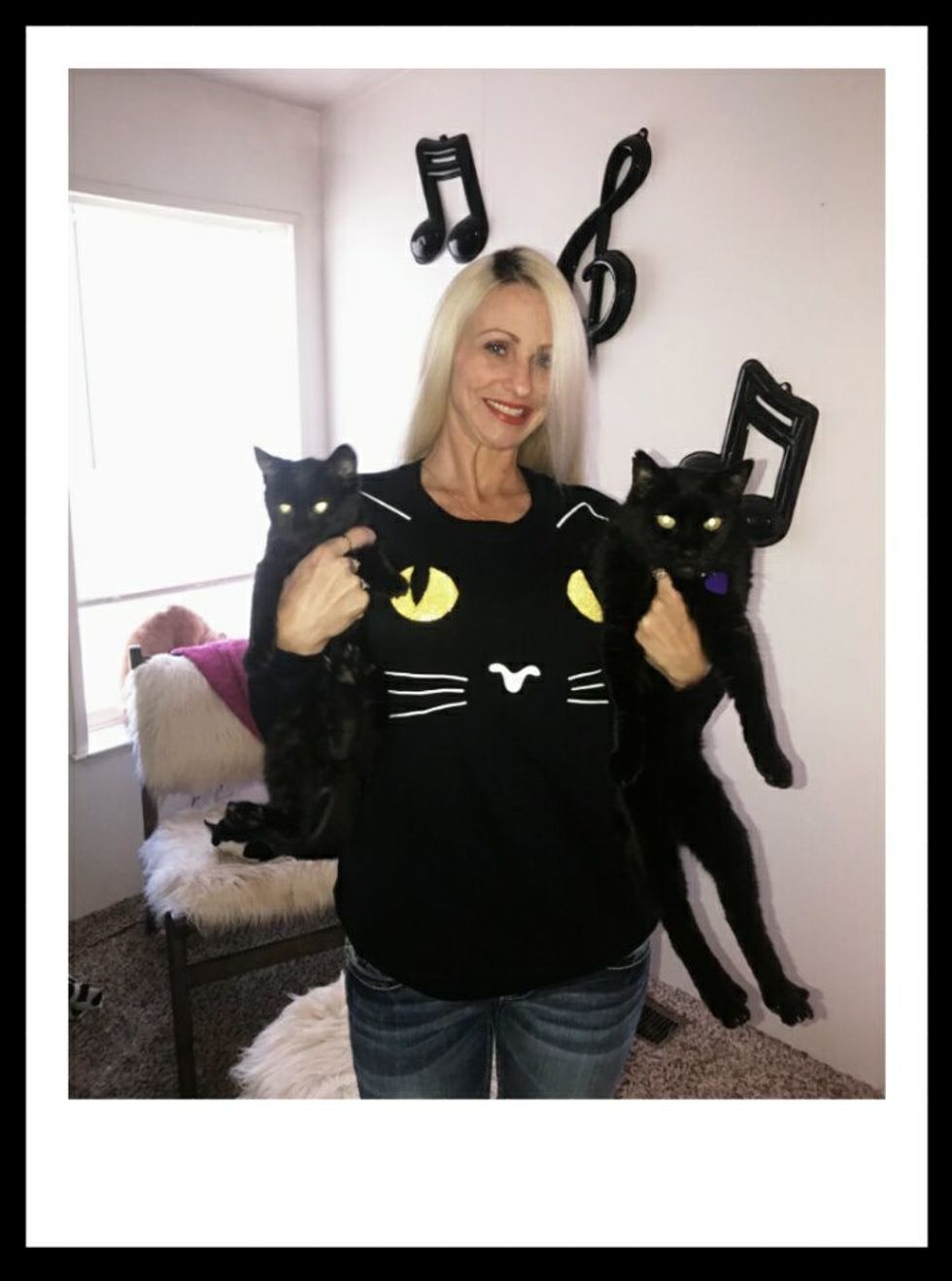 Leah Lyman and Jagger, photo courtesy of Rich Cassady Photography
She traces her passion for helping abused animals back to a Southern California childhood spent with an alcoholic father who abused her mother and their pets. The family moved often. "We always had a bunch of animals that I was attached to and we always had to get rid of them or leave them behind," she explains. "I developed a strong bond with them, regardless."
After high school, she worked as a show girl in Las Vegas before returning to California. Seventeen years ago, she was volunteering at a Gurrs and Purrs adoption event in Rosemead when someone walked in with a black kitten locked a birdcage. "They'd been keeping him on their front lawn," she says. "He had a bad respiratory infection, and he was covered in ear mites. We picked off all the mites, and he followed me everywhere. He was the best little cat I'd ever met."
The cat, Jagger, moved to Oregon with her and an older black kitty 13 years ago, and became the inspiration for her rescue organization. "I saved up all my bartending tips for four years to hire a non-profit lawyer," she says. "Now I've got a circle of people I trust—foster parents, adoption event staff, and an amazing trapper who works with feral cats and kittens. Cats are my world."
Jagger's Journey is one of a handful of organizations across the country that specializes in black cat rescue and adoption. There's also Black Cat Rescue in Boston, and Black Cat Holistic Rescue in Los Angeles. The women behind each agree that cats can be difficult to place in permanent homes. They don't always show to advantage in adoption pictures, unless they're photographed in natural light or brightly lit indoors. And superstition–as Lyman points out–persists. "Black cats are less likely to be adopted than other cats," she says, "though when the movie Black Panther came out, everyone wanted them for a while."
But that trend has slowed. And so, every Saturday, her cadre of foster parents bring cages of rescued black kittens and cats to an Oregon PetSmart, and she displays them on tables for shoppers to consider adopting. She's there to answer questions and help potential cat-parents through the application process.
She answers all of my daughter's questions about the silky black kitten, and then—when I allow that we probably have room in our home and our hearts for another cat—she interviews me extensively about our current pets and our veterinarian and my plans for the kitten if I unexpectedly ascend to that great litterbox in the sky.
"People are starting to consider the underdog," she says as she approves my completed application and congratulates my daughter on the acquisition of a new friend. "This a lot of work," she says, "but on the flip side, I see more and more people opening their hearts to black cats."
Melissa Hart is a writer based in Oregon and the author of Better with Books: 500 Diverse Books to Ignite Empathy and Encourage Self-Acceptance in Tweens and Teens
Source: Changing the false stigmas about black cats requires patience, knowledge and a lot of love