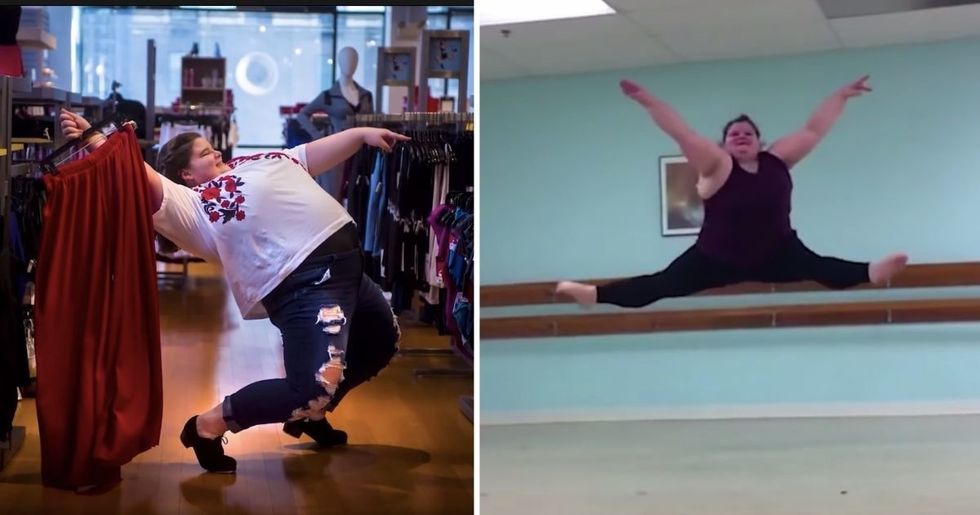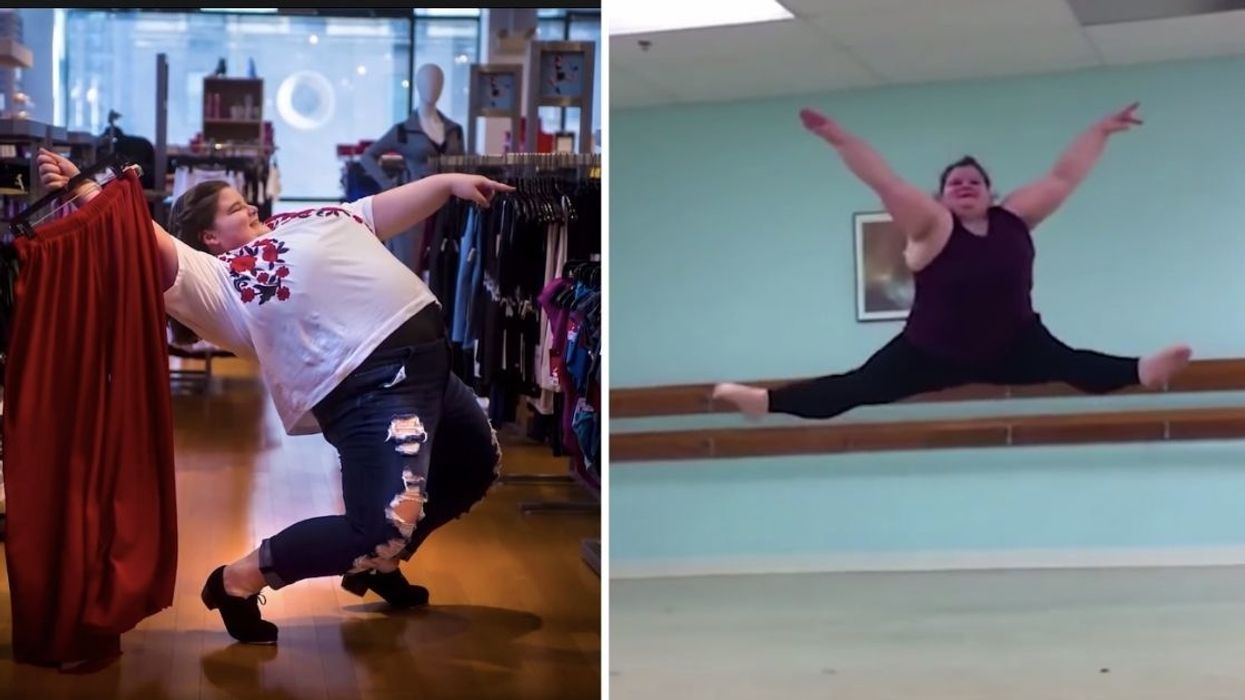 When you picture a ballerina, you may not picture someone who looks like Lizzy Howell. But that doesn't mean you shouldn't.
Howell is busting stereotypes and challenging people's ideas of what a dancer should look like just by being herself and doing her thing in her own body. The now-19-year-old from Delaware has been dancing since she was five and has performed in venues around the world, including Eurovision 2019. She has won scholarships and trains up to four hours a day to perfect her skills in various styles of dance.
Jordan Matter Photography shared a documentary video about Howell on Facebook—part of his "Unstoppable" series—that has inspired thousands. In it, we get to see Howell's impressive moves and clear love of the art form. Howell shares parts of her life story, including the loss of her mother in a car accident when she was little and how she was raised by a supportive aunt who helped her pursue her dance ambitions. She also explained how she's had to deal with hate comments and bullying from people who judge her based on her appearance.
"I don't think it's right for people to judge off of one thing," Howell says in the video. And she's right—her size is just one thing.
Howell shares that she's been bullied in dance since she was six, and how it still happens when she goes to dance conventions. She sees people staring at her and whispering about her, but she says the successes she's had in dance and reassurances from other people keep her going.
"Most dancers are skinny, and I'm not," Howell says. "I think a lot of people can relate to me in that sort of way. They see me as an inspiration because I've been told I've been told to quit dance multiple times and I haven't."
"Dance is what I love and it's everything to me," she says. "So I think that just keeps me going."
Howell also has a message for people who might be tempted to say unkind things: "Whatever you say on social media is going to be seen by somebody and it could hurt their feelings. You know, you can't just say something that you think is funny but it might affect somebody else's feelings. I'm a very sensitive person, so I take everything to heart. There's a bunch of people that are like me that take it the same way."
Howell says dance is like therapy for her, which makes it all the worse for people to use her body size as a dancer as an excuse to be jerks. It might be surprising to see someone with Howell's body type doing the kind of dance she does, but anyone who comments negatively on a person's body—especially a young person has worked hard to train their body to create art—is a first-rate a-hole.
A few years have passed since Howell was interviewed for the "Unstoppable" video, and she's still showing that she truly is unstoppable. She now has more than 200,000 followers on Instagram and regularly posts videos of her dancing in the studio.
Thank you for showing us what bucking the status quo looks like, Lizzy. Keep being bold, dancing beautifully, and showing the haters you won't let them stop you.
Source: Teen ballerina boldly and beautifully challenges 'dancer body' stereotypes​